Products and Services
Honey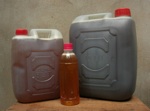 Honey provided by Bees Unlimited is a fragrant multi-floral forest honey. Produced by Giant Honeybees, it is filtered and bottled by honey-hunters and rafter beekeepers, then sold in bulk to establishments in Siem Reap which are proud to provide pure, local, premium quality products to their clients.
Note: The supply of this pure, delicious, local honey, currently priced at $25/litre, is both seasonal
and limited; and may not be available while you are visiting Siem Reap.
Wax

Pure beeswax is always in high demand in Cambodia, with villagers snapping it up to make candles for use in weddings and religious ceremonies, and to blend with traditional medicine. It is also used locally in skin balm, and as furniture polish.
Beeswax provided by Bees Unlimited is a pure, high quality by-product of the Giant Honeybees in the Rafter Beekeeping Community, and currently sells for $17.50/kg. Although demand for it in Siem Reap town has been high at times, supply is limited, due to the priority village demand--mostly from monks at the local pagodas, who render it to candles.
Eco Tours
The ancient temples of Angkor Wat, Bayon, and Ta Prohm, will certainly take your breath away. Sculpted from top to bottom, they truly are magnificent masterpieces of a lost civilization.
And there are many, many more; however, when trying to take in so much on a 3-day or even a 1-week pass, you will inevitably get "Templed-out". In which case, we suggest you take one of our Bees Unlimited Tours.
Bees Unlimited Eco Tour options
ALL EXCURSIONS:

• Sunday, Monday, Thursday, Friday.
• 7:00 departure from your hotel/guesthouse.
• 2-3 p.m. return to hotel/GH.
• Payment due on return to hotel/GH.
• (No old, torn, crumpled, or creased bills, please).
• Half-price for children under 12; under 5, free.
• Transport included, except for solo travelers.
• Meals and Beverages not included.
• French and English spoken.
To book a tour: Call Dani at 012 436 475; or E-mail him at: This email address is being protected from spambots. You need JavaScript enabled to view it..
NOTE:
Rainy Season (June-Oct) is the optimum time for our Angkor Nature Tour.
Dry Season (Nov-May) is the best time for Bee Tours.
Our "Discover Cambodia" Tours, and Floating Village Tour offer something for everyone year-round.
Consultancy
Bees Unlimited is the only facilitator in Cambodia which offers comprehensive village-based instruction in indigenous bee beekeeping that combines appropriate technology with hands-on, practical training. We specialize in rafter beekeeping and sustainable honey-harvesting.
Non-governmental and other organizations in Cambodia eager to promote beekeeping extension activities in their target area are encouraged to CONTRACT US for your training needs.
Unauthorized use of any of the photos on this site,
without consent of the author, is prohibited.
Dani Jump©.